Dental Assisting in Louisville, Kentucky
Our Dental Assisting program in Louisville, Kentucky is specifically designed to offer our students flexibility. We offer online classes that also allow you to come on campus to experience the benefit of hands-on training as well. Lab classes are held in person, in our Dental Lab and externships are performed in an actual dental office.
Dental Assistants are an important part of any successful dental practice. The Dental Assistant program will cover all aspects of dentistry to help students become well-rounded in all areas of dental practice. To better prepare our students for the workplace, the Dental Assistant program also includes EDDA training (Expanded Duties Dental Assistant) and Radiology Certification.
Dental assisting is an outstanding career for someone who is detail oriented, driven to help people and enjoys hands-on work. Dental Assistants perform a variety of jobs, including:
Preparing patients for examination and treatment
Taking X-Rays (Radiography)
Prepare tray set ups for Dental procedures
Perform clerical, laboratory duties, and more!
In addition to the basic coursework for dental assistants, ATA also provides:
Radiology Certification and Radiation Safety Course
Expanded Duties Dental Auxiliary (EDDA) Certification
OSHA Certification
Career placement assistance for graduates
Externship placement assistance for students
CPR certification for healthcare providers through the American Heart Association
Kentucky certification in Radiology Safety and Technique
300 hours of externship in a dental office
Hands-on lab experience at an actual dentists office
Instruction from dentists and dental assistants
Dental Assistant Program Sample Courses
ANA 105 Basic Oral & Facial Anatomy (4 credits)
DEN 101 Intro to Dental Assisting (4 credits)
DEN 140 Advanced Operative Procedures (4 credits)
Dental Assistant Program Career Choices
Oral surgery
Pedodontics (children's dentistry)
General dentistry practices
Endodontics (root canals)
Orthodontics (braces)
Periodontics (gum disease)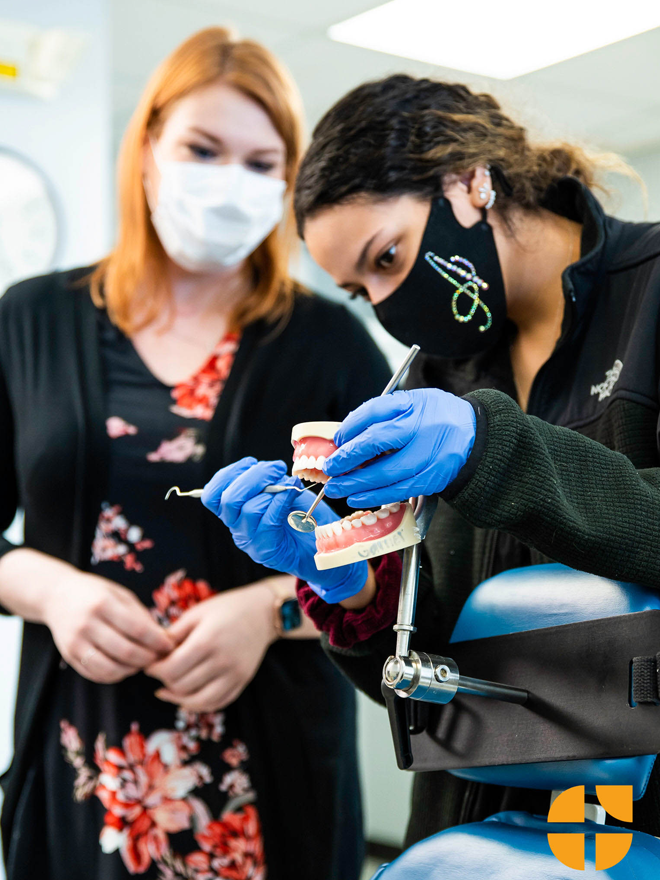 Request Information for the Dental Assistant Program
Classes are enrolling now! If you're interested in this program or would like more information about ATA, please contact us online for more information.
Dental Assistant Program Gainful Employment Disclosures
Standard Occupations Classification (SOC)
More information about careers and occupations can be found at O*NET (http://www.onetcenter.org), the nation's primary source of occupational information. Use the link below to learn more about Diploma Dental Assistant: www.onetonline.org/link/summary/31-9091.00